CA Bishnu Kedia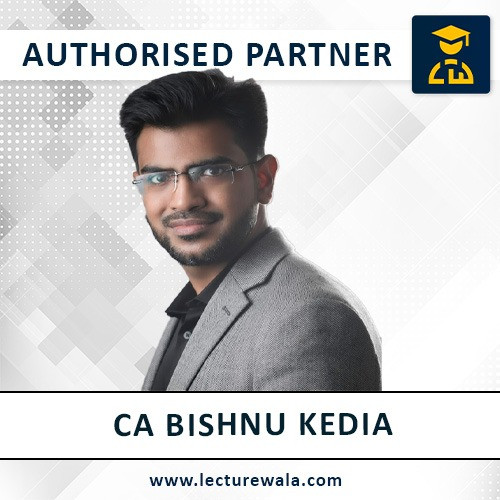 Learn With CA Bishnu Kedia on Lecturewala and Unlock Your True Potential

Witness an exceptional lecture series by CA Bishnu Kedia on Lecturewala. CA Bishnu Kedia is a first-class commerce graduate from the esteemed Calcutta University. He has more than 4 years of experience in Assurance Practice with two of the Big Four firms, KPMG and PWC. Here, CA Bishnu engaged in auditing the financial statements of companies from various industries, complying with Accounting Standards. He is an eminent faculty member of Accountancy and Financial Reporting.
CA Bishnu Kedia has over 4 years of teaching experience to students all over India and across all levels of various courses. What makes his classes interesting is his explanation of concepts with practical and real-life examples. Mr. Kedia makes sure that his students prepare during the class itself, requiring minimum revision time. CA Bishnu Kedia is a highly knowledgeable and experienced professional who has dedicated his time to education, research, and the pursuit of knowledge.

Bishnu Kedia video lectures are available for both CA and CMA. He teaches subjects such as Accounting, Corporate Financial Reporting, Auditing, and Financial Accounting. You can gain access to CA Bishnu Kedia video lectures through Lecturewala. Bishnu Kedia pendrive classes are available for you at the best prices here at Lecturewala. He possesses a deep understanding of the subject matter and is often considered an expert in the field. CA Bishnu is known for imparting knowledge to students through lectures, discussions, and assignments.
You can find Bishnu Kedia pendrive classes on Lecturewala. Bishnu Kedia video lectures are readily available on Lecturewala at affordable prices. Lecturewala is a platform that brings you the best learning resources and lectures. Now, don't put off learning. Buy today!
CA Bishnu Kedia's Pendrive Classes
Showing 1 to 13 of 13 (1 Pages)