CA Abhishek Bansal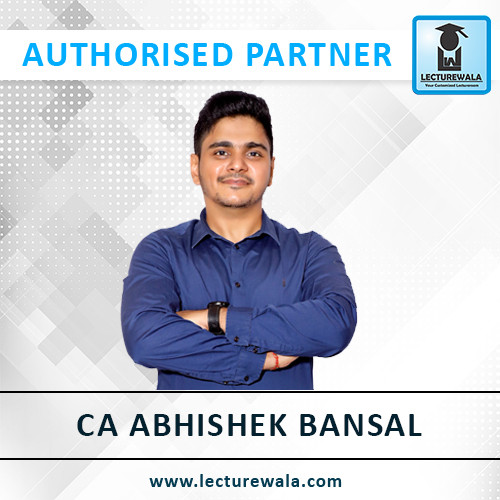 About CA Abhishek Bansal Sir
Abhishek Bansal is a Chartered Accountant, Company Secretary and a Professor. Belonging to the state of Haryana, he has pursued his education and lived in Mumbai since a young age. He owns an experience of over 5 years. His professional and personal capabilities have made him a man of compassion and deep understanding. CA Abhishek Bansal has a mind that comprehends his students; from their daily life issues to social as well as psychological difficulties, Abhishek Bansal guides individuals through each of them.

He aims to enhance student performance and has always been helping individuals solve the toughest problems. Abhishek Bansal has a zeal for teaching and that is quiet evident in his past work and the results his students have achieved.
He has written his knowledge of various subjects in books like CPT Law, IPCC Audit, CS Executive etc. He has been a major guide to CA and CS aspirants for over 5 years and continues to be so.
At Lecturewala, CA Abhishek Bansal teaches the following:
· CA Final (Law)
· CA Final (Audit)

1. How is CA Abhishek Bansal for law?
- CA Abhishek Bansal Law lectures have received a lot of appreciation. He has guided students well through the past. Hence is one of the recommended professors.
2. Is Abhishek Bansal good for audit?
- CA Abhishek Bansal audit classes have been a top choice amongst students. The experience CA Abhishek Bansal owns combined with his teaching methodology make him one of the best professors for audit.
3. What is the link to CA Abhishek Bansal official website?
- Lecturewala has collaborated with Let's Learn India CA Abhishek Bansal. You can find the link here -